Pre-ELWR English for Multilingual Students Pathway Information
The pre-ELWR English for multilingual students pathway involves two courses in a sequence. This information helps you understand these pre-ELWR courses and what they offer.
What course will you take?
UWP 21 comes before UWP 22 in a sequence. Students who place into UWP 21 will complete the course before moving onto UWP 22. Students who place into UWP 22 will complete the course before taking an ELWR-fulfilling course such as UWP 7M.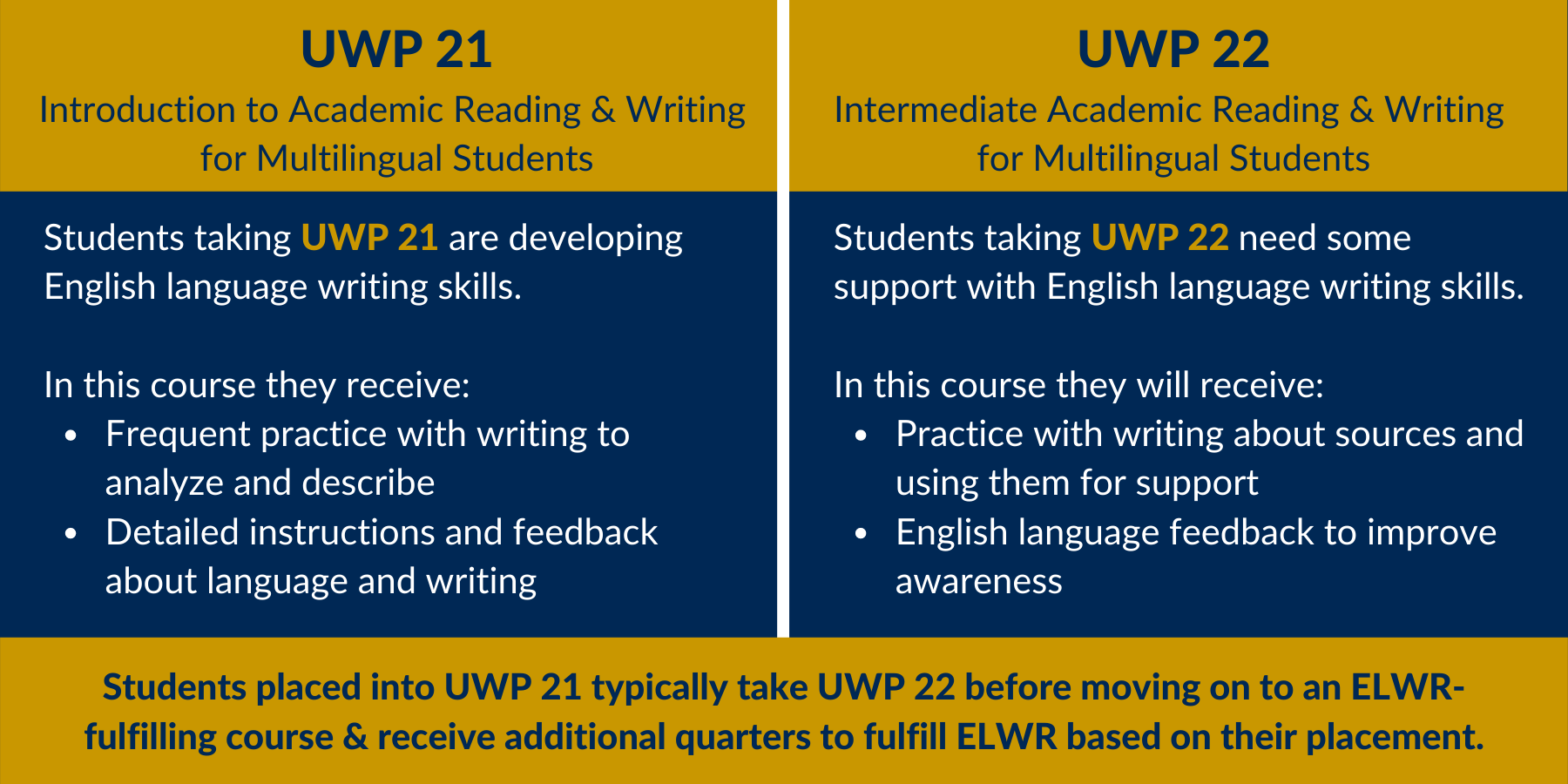 What will you learn?
Courses in the Pre-ELWR English for Multilingual Students (EMS) pathway support English learners in their development of English language and writing skills. Every student in an EMS class reads, writes, speaks, and understands another language. In these courses, you will read and complete assignments that prepare you for a course that fulfills the Entry Level Writing Requirement (ELWR). 
How will you learn?
Students in UWP 21 and UWP 22 build writing, reading, language, and critical thinking skills throughout the quarter. It's common for students in UWP 21 and UWP 22 to participate in individual work, group work, and peer feedback workshops. 
UWP 21 begins with a focus on paragraph writing and basic analysis. Students find common features among a group of readings and write about them. UWP 21 students will then write a longer response to practice developing more complex ideas to achieve a writing goal. 
A common writing assignment in UWP 21 is an analysis of several responses to a question. Students write about how the responses show patterns or unique features and then draw conclusions about these results.
Students in UWP 21 will: 
Read and analyze short texts to build vocabulary and to learn more about academic writing

Complete assignments where they will describe and analyze their own experience and/or the writing of their peers while developing more language proficiency in academic English

Complete assignments that focus on the foundations of college writing (like summary and analysis) in English with considerable guidance from a teacher 

Receive frequent instruction, practice, and feedback focused on English language use of academic writing
UWP 22 focuses on writing about sources (an article, a website, etc.). Students will discuss and write about the decisions made by the authors of source materials. Students will practice analyzing and integrating source materials into their own writing. In this process, they also learn ways to give credit to sources they use in their writing. 
A common assignment in UWP 22 is a source analysis. Students examine specific features in a source, such as how a writer uses language, evidence, and persuasive techniques to meet readers' needs.
A common writing assignment in UWP 22 asks students to analyze a source and respond to the content and/or perspectives expressed in that source. 
Students in UWP 22 will: 
Build strategies for understanding the meaning, purpose, and structure of a range of texts

Analyze and write about the features of one assigned reading at a time

Develop claims about the texts they read and use those texts as evidence in their writing with consistent guidance from a teacher

Receive frequent feedback to guide the clarity and quality of their analysis, claims, and academic English
Additionally, students in UWP 21 and UWP 22 receive English language feedback that helps them to learn how to notice patterns of surface- level errors and correct them.